ProTag Systems Overview
The ProTag Systems are available in various configurations, depending on your application environment, budget and management requirements.
Typically systems are purchased as a complete package, but each component can also be purchased separately so systems can be built up over time.
The core components of each system are:
an automated portable appliance tester with memory for logging test results
software for downloading test results, reporting for logbook and asset management purposes
barcode scanner for rapid data entry on the tester such as asset description, make, model, serial number, comments, asset site and asset location
test tag printer for on-site printing of durable and customised test tags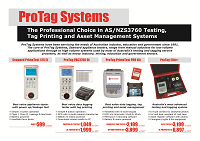 Protag Comparison Chart
Download
---
ProTag DL Australia's Best Value Basic Logging & Tag Printing
Only $2,189 EX GST Buy Now
The Seaward PAC3760 DL is based on the PAC3760 series, Australia's most popular and easiest to use appliance testers. The PAC3760 DL includes download of test results to any spreadsheet or database program - no special software required!
The PAC-OPT's unique "Plug N Print" operation simply requires connection to the PAC3760 DL via serial cable, conduct your test and press the print button to output your test tag. No time consuming logo set-up required as the PAC-OPT prints a generic test tag.
PROTAG DL System Features
Single push button operation
Battery & mains powered
Pass/Fail indication and actual readings
Senses an IEC or extension lead and conducts a polarity test
Detects if the appliance under test is not switched "On"
10mA & 30mA portable and fixed RCD trip time tests
In-Built isolation transformer
Stores 999 test results and downloads CSV file
"Plug N Print" test tag printing with PAC-OPT test tag printer
3 phase leakage test - optional 3 phase adaptor required
---
Professional PrimeTest PRO TEST KIT
Only $3,999 EX GST Buy Now
The PrimeTest PRO TEST KIT  is Australia's most affordable and truly portable appliance and RCD testing, tag printing and record keeping system.
Seaward PrimeTest PRO, Optima Printer & PATGuard 3 Software
Appliance & RCD Testing, Tag Printing and Data Logging of Inspections
Bluetooth Technology for test tag printer connection and USB for data download
Light Weight - Complete System Weighs Around 2kg
Battery & Mains Powered - For Maximum Mobility
Supplied with Heavy Duty Ruck Sack for easy transportation and protection
Optional BCS-OPT Bar Code Scanner
The Seaward PrimeTest PRO TEST KIT provides users with AS/NZS3760 test and tag technology that is more advanced than any other tester on the Australian market at an affordable price.
Here is what sets the PrimeTest PRO apart from any other tester on the Australian market: 
HIGH DEFINITION COLOUR DISPLAY
Lets face it, if you're going to look at a screen all day, make it colour. Easier on the eyes and easier to navigate the menus.


IN-BUILT KEYBOARD
No need for additional tablet or mobile device that you lose or break. Data entry is fast and efficient with the on-board QWERTY keypad. It's a practical solution to create efficient and accurate data all on one device.


USB FOR DATA UPLOAD/DOWNLOAD
Just plug in your USB cable to download, upload or back-up your data. No need load Bluetooth data transfer drivers.


IN-BUILT ISOLATION TRANSFORMER
No more carrying around an additional isolation transformer. This in-built function is essential and time saving. Test your portable RCDs with no worry of tripping the RCD at the DB board.


BATTERY & MAINS POWER
Not only is the tester mains and battery powered, it automatically charges the batteries whenever you're plugged into mains power.


PATGUARD 3 SOFTWARE
Includes a FREE 1 year subscription for Seaward PATGuard 3 Asset Management and Reporting software. Create reports effortlessly and convert to PDF format, ready to email or save to site records.


ANDROID USB ON-THE-GO SUPPORT
Located off-site or remote, no problems. You can use On-The-Go to email your data to the office. No additional software license
required.


PRO RUCK SACK
Comes complete with Seaward's heavy duty ruck sack. Large enough to fit your PRO, tags and accessories. Makes transporting your PRO on-site easy while protecting your investment. 
---
Advanced ProTag Elite-PLUS System
Seaward Elite-PLUS Tester From $3,299 EX GST
PrimeTest Elite-PLUS Tester Buy Now
ProTag Elite-PLUS System Buy Now
ProTag Elite-PLUS System: test portable appliances & RCDs, take asset photos, print UV/heat resistant test tags and download test and asset inspection results to PATGuard Elite management software.
Australia's most advanced testing, tag printing and asset management system. The system of choice for high volume applications and service providers requiring maximum throughput and test result accountability.
The ProTag Elite-PLUS System comprises of:
PrimeTest Elite-PLUS Appliance & RCD Tester
ProTag PRO-XL UV/Heat Resistant Test Tag Printer
BCS-BT-2D Bluetooth Barcode Scanner supports QR codes
PATGuard Elite 3 Asset Management System Software
ELT-CASE Professional Transit Carry Case
On-Site User Training (subject to conditions)
---
PrimeTest Elite-PLUS Tester
Advanced features
High Definition Colour Display
QWERTY Keypad
In-Built Camera with Flash
USB for Data Up/Down Load
In-Built Isolation Transformer
Huge On-Board Memory: 50,000 assets and 2,000 asset photos
Optional PATGuard Elite Asset Management Software
Optional Data Logging of 3 Phase Leakage Tests Using PAC-TPL Adaptor
Specifications
Display High resolution colour LCD
Indication PASS/FAIL and measurement values
Operation QWERTY keypad

INSULATION TEST
Test Range 500V DC, 1Mohm at rated mains supply
Pass Level 1Mohm

EARTH CONTINUITY TEST
Test Current 200mA AC
Pass Level 1ohm

LEAKAGE TEST
Output Voltage 240V AC
Pass Level Class I 5mA, Class II 1mA

MOV DEVICES LEAKAGE TEST 
Output Voltage 240V AC
Pass Level Class I 5mA, Class II 1mA

EXTENSION LEAD LEAKAGE TEST
Pass Level 1mA

POLARITY TEST
Pass Indication live/neutral open circuit, short circuit & crossed

RCD TEST
Test Current 30mA sinusoidal, starting on a zero crossing at 0o - 180o
Pass Level 300ms

Memory 50,000 assets, 2,000 photos
Data Logging User defined inspection routines with library of measurement units for actual results recording
Accessories earth bond clip, IEC adaptor
Interface Bluetooth to peripherals, USB for data download
Power Source Mains or battery
---
ProTag PRO-XL Tag Printer
The Protag XL printer utilises thermal direct printing technology. Users can choose between OPTIMA test tags for general indoor and outdoor use and XL test tags. XL tags are ideal for all harsh environments, including permanent outdoor exposure to UV and heat, and demanding indoor applications such as commercial kitchens.
Specifications
Print Method Thermal direct
Resolution 203dpi
Power Lithium-ion rechargeable battery
Enclosure Drop resistant
Weight 790 g
---
BCS-BT-2D Barcode Scanner
Non contact 2D scanner for rapid entry of appliance numbers, descriptions and comments. Supports QR codes.
The bar code scanner frees the operator from typing in the appliance number prior to each test. Simply swipe the appliance number bar code or QR code.

Specifications
Power 2 x AA, approx 30 days use
Enclosure Drop resistance to 1.2m
---
PATGuard Elite 3 Asset Management Software
Seaward's PATGuard Elite 3 takes a significant leap in electrical safety management software. Its unique "Drag and Drop" presentation makes the software intuitive and very easy to use. PATGuard both uploads and downloads appliance information and test results. Also sends automatic email alerts with the option of including a quotation.

Users have a complete visual overview of all appliances in terms of locations and test status. Appliances are simply dragged and dropped from one location to another. Repeat testing requirements are easily displayed allowing scheduling of tests to be conveniently managed and uploaded into the appliance tester. 

Reports View, Print, Save as File, e-mail, Bar Code Reports, Bar Code Labels, Customised Reports
Viewer Program free distribution
Features Set-Up Wizard, Manual Result Input, Result Upload Facility, Asset Grouping, Automatic Record Generation, Re-test Scheduling, Data Import, Data Export, Multi User
Platform Windows 10